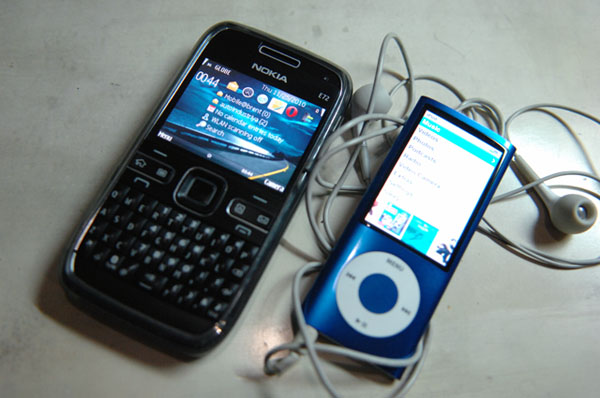 Sometimes you just have get updated technologically. I recently upgraded my mobile phone and opened up my brand spanking new iPod Nano 5G. These are not the latest gadgets in market though.
I bought the phone because my previous one was quite old already, it was more than three years old already. No, I did not get an iPhone and it wasn't even on my list of replacement candidates. I find it really inconvenient that it doesn't support VCF business cards messaging.
I kinda missed having a QWERTY phone since my last one which was a Nokia E61, a slow ass phone which I didn't use for very long. My choices for a new one was either a Blackberry 9700 or a Nokia E72. Thinking that I really don't do that much email out of the office, I opted to go with the latter. And luckily I found a good deal on a relatively new one at a very good price on philmug.
It still taking a bit of getting used to after a few days of use. But I'm getting the hang of it. Its much much easy to type out the full message which I normally do even on a numberpad based phone.
With regards to the iPod, it was a prize I won from a recent event's photo contest – The Nissan Truck & Track Challenge held at Timberland Heights in San Mateo, Rizal. It was actually just a runner-up prize and I wanted it more than the first prize which was a Canon point and shoot. Luckily for me, it was also in blue. My favorite color. The 5G iPod Nano is miles away from my previous one, as it now equipped with a camera and motion sensors which rotate the display when you move it to landscape view.
So here I am unpacking it slowly, and then quickly plugging it into my Macbook Pro to load up some songs to it with iTunes.