What are you willing to do to watch a concert? We flew all the way to California, braved traffic to Oakland, walked more or less 2 miles from the freeway until the arena to watch U2 Live on their 360 Tour!
Well a little bit exaggerated was the flying part. About a month before leaving for our honeymoon, my wife told me that U2 was playing in some of the cities we'd be visiting. Since we haven't seen a concert together, how much more awesome could it get than to see U2? A band who would probably never find their way to the Philippines. So after a bit of deliberation, I was finally convinced (still a bit hesitant) to cough up a significant amount for tickets on the second level (We did get the front now at the very least). So yeah, we did fly to California, but not just for the concert.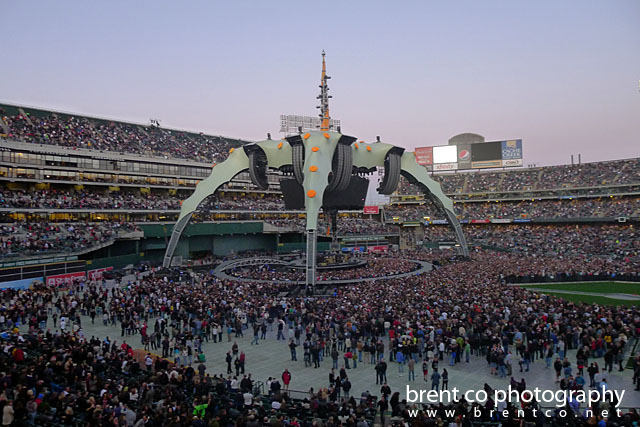 The arena was filled early on as Lenny Kravitz opened for them. Yes you read it right, The Lenny Kravitz as opening act for U2! Opening acts are usually up-and-comers, but I guess U2 deserved no less than Lenny Kravitz. Too bad traffic cut up most of our time and we only caught three songs before he ended his performance. The picture above is after Lenny Kravitz left and more people finally arrived after braving the traffic and long walk.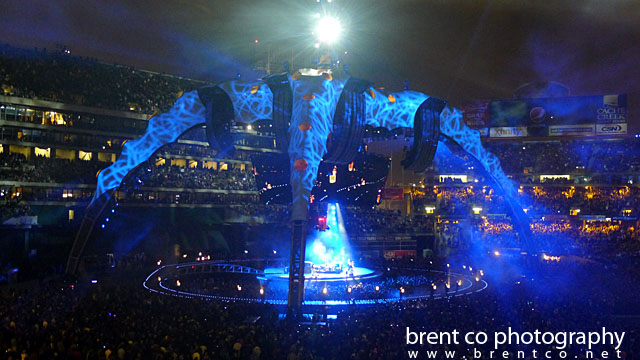 It took about a couple of hours of waiting until maybe almost 10pm before they (U2) finally came out running up the stage sending the crowd literally roaring! Then the seemingly lifeless Claw (a reportedly $750,000 to set-up and transport according to Perez Hilton) lit up and turned into the most incredible spectacle of bright blinding lights I have ever seen. I don't even know if my words and pictures can describe the experience enough.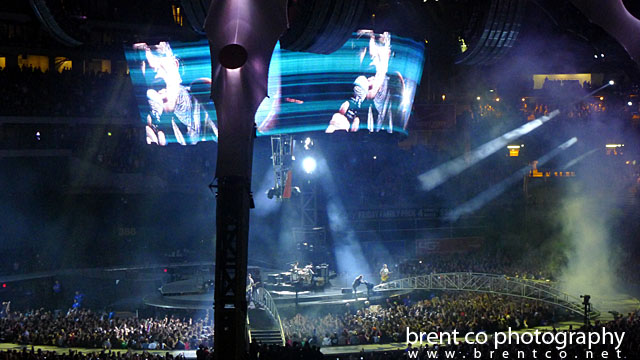 Here's a snap of Bono on screen. And get this, they performed 20 songs straight with no intermissions at all. Being big supporters of Amnesty International, they also showed on the screen speeches by Bishop Desmond Tutu, Aung San Suu Kyi (who is a U2 fan as well).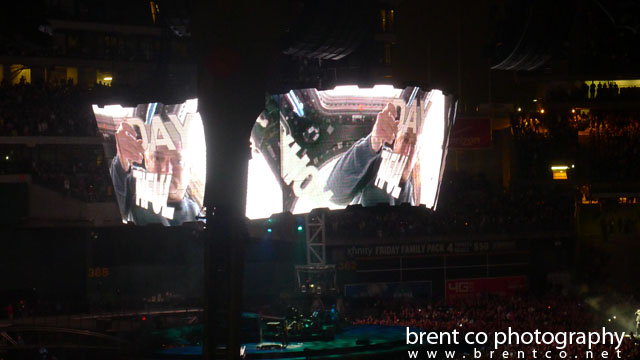 But the best surprise of all was Commander Mark Kelly (husband of Congresswoman Gabrielle Giffords) making a cameo in a recorded video from the Space Shuttle Endeavor greeting fans from space and eventually introducing Beautiful Day. The song was dedicated to Giffords who was a victim of a nearly fatal shooting in Tucson, Arizona few months back and was inspired by the song while recovering. She specifically chose it as the wake-up song for the shuttle mission of her husband.
On a later part of the song, Commander Kelly appeared again to recite the bridge of the song, with a little variation.
See the world in green and blue
Wall of China right in front of you
See the canyons broken by clouds
See the tuna fleets clearing the sea out
See the bedouin fires at night
See the oil fields at first light
and See the bird with the leaf in her mouth
After the flood all the colors came out
Beautiful Day is actually one of our favorite U2 songs and we chose it to be played on our wedding day as our exit song from the church. Unfortunately the stupid fucks or the San Sebastian Church's so-called "coordinators" messed up our schedules and the song wasn't played anymore. So a big fuck you goes to those assholes once again.
Here's a video from YouTube taken by user thernand01.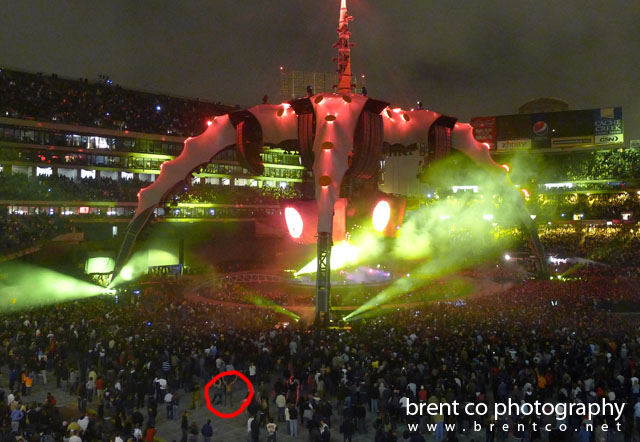 It was a truly amazing experience for both of us truly a memorable first concert together. We might not have enjoyed as much as the guy in the picture above. He was dancing with his shirt off on field for pretty much the whole concert and it was about 10-12 degrees celsius that night.