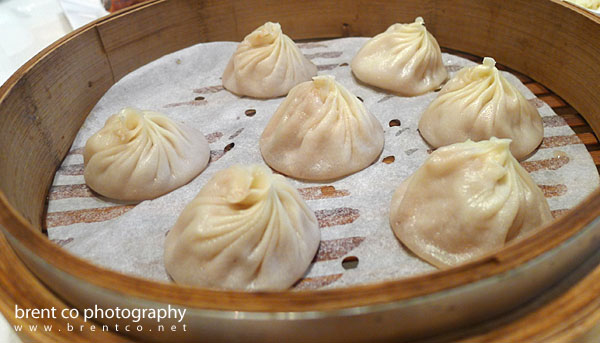 Situated in the already busy Connecticut street which has several restaurants already,  Lugang Café  by the famed Bellagio Group (based in Shanghai) opened its doors late last year serving savory Taiwanese dishes. The restaurant is housed in a three-storey tastefully designed neo-classical Chinese building.
Taiwanese Cuisine is a version of Chinese which uses less ginger and leaves a sweeter note. This was actually my second visit to Lugang and it turned out to be a more delightful experience compared to my first one. This time it was for my brother's birthday. And I would like to start off with applauding their improved Xiao Long Bao which is far better than the bland tasting one during their soft opening period. The soup inside the dumpling is tastier and more flavorful now with the wrapper still being soft and thin.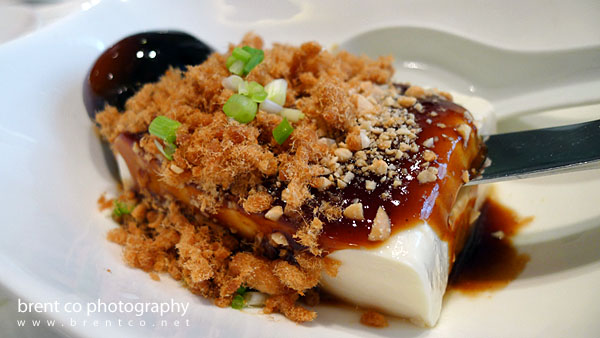 First up for us was the Cold Tofu with Preserved Egg appetizer. It was topped with a sweet soy sauce, pork floss, peanuts and finished off with spring onions. The smooth textured tofu blended well with the toppings and the egg (commonly known as century egg) as the flavors combine for a very unique flavor in your mouth.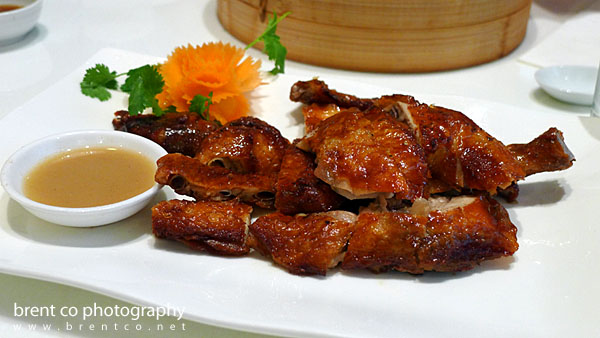 Who would order such an ordinary dish such as fried chicken in this nice restaurant you might say? Mind you this was a very delicious plate of Crispy Chicken with juicy chicken meat inside covered by crunchy skin and seasoned just right.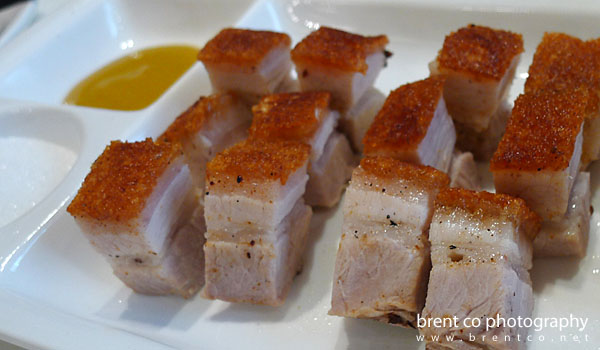 Roasted Layer Pork – this dish is a favorite of mine in nearby Choi Garden. Talesfromthetummy has been raving about Lugang's version which is uniquely served with sugar in addition to mustard on the side. I have to admit, Lugang's version is tastier but the sugar was quite weird.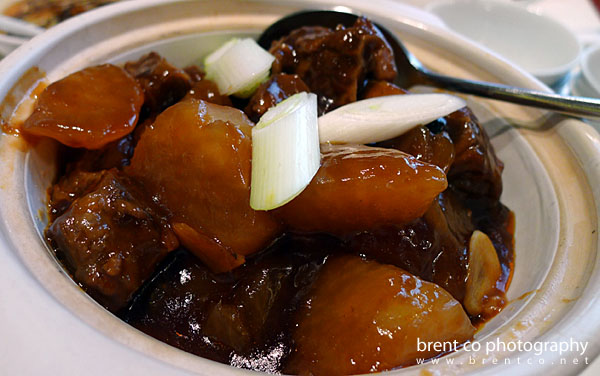 Stewed Beef, Tendon, Turnip in Clay Pot or simply known as Chinese Beef Stew is a favorite dish of mine since I was a kid. It is really hard to come by a really good version of this dish and I have to say, Lugang did a very good job!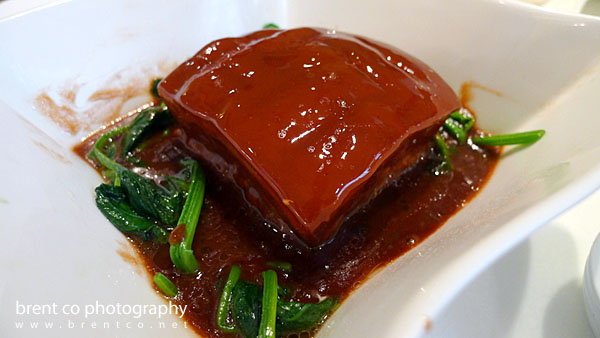 This Stewed Pork dish was another winner. The tender melt in your mouth pork tasted very well with a generous amount of the savory sauce that it came served with.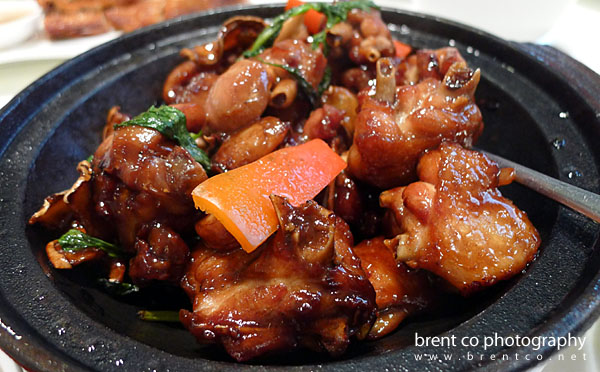 Marked as House Specialty, the renowned "sanbei ji" Three-cup Chicken of Lugang was to die for. The dish is basically chopped chicken reduced in a cup each of rice wine, sesame oil and soy sauce.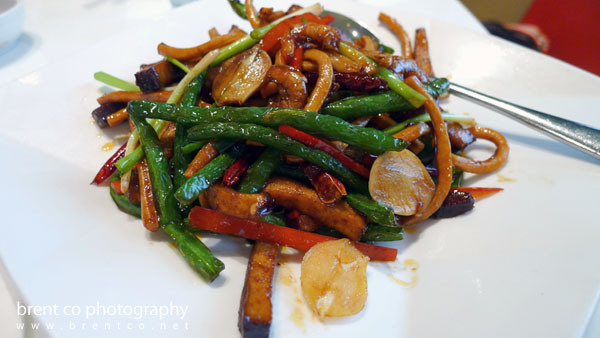 The Stir Fried String Beans was a good addition but nothing much to comment about.
The Pineapple Fried Rice was again topped with pork floss (a favorite garnish of the chef). It was just okay for me, nothing fantastic. It did come out nicely presented though. Although I'd rather have steamed white rice with my beef stew!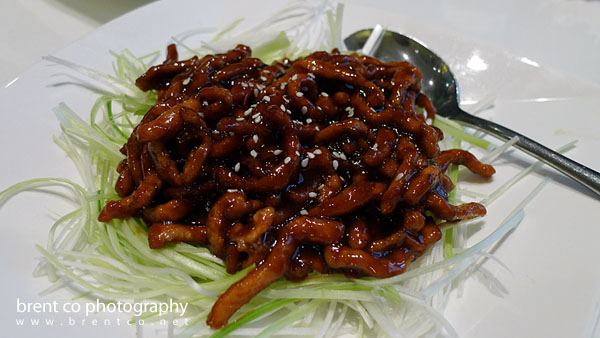 And you never thought something would go wrong in the sea of great dishes. But this one has to be the odd one in the bunch. Presentation looked like a bunch of worms topped with sauce laid over green onions. It didn't taste nice either. Well they can't perfect right?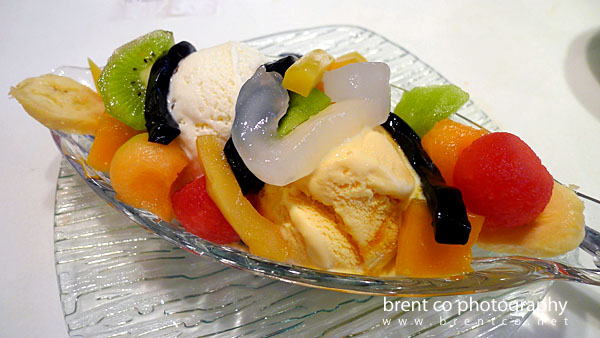 For dessert I chose Mango, Coconut Sorbet topped with Fresh Fruits, Grass Jelly and Coconut Jelly. It was like a fruity version of our local Halo-Halo.
Overall it was a pleasant dining experience at Lugang Café and the prices offer really good value for the food quality and serving size. I'd really love to go back, problem is it is usually if not always full. So best to call and reserve a table if you're planning to go there. Otherwise, you might find yourself eating elsewhere.