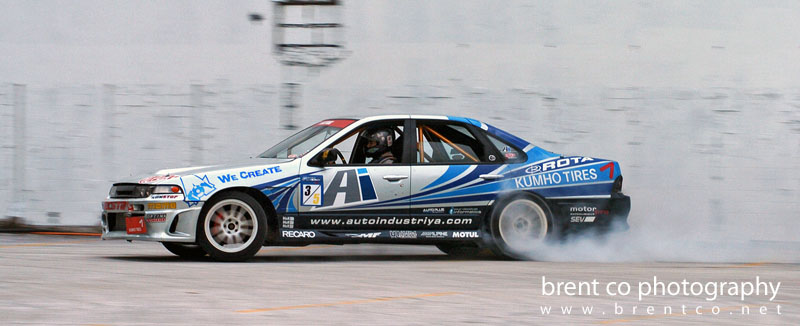 The 2010 drift season started out to be a turbulent one for us. Months of stress, hard work, and a lot more money into the pit finally paid off. The result is a beauty and beast all in one package. Team AutoIndustriya.com's Drift Cefiro is running better than ever in the 4th Round of the 2010 Lateral Drift Championship. With the new engine properly tuned and running at 300 wheel horsepower (303 to be exact), I really couldn't be any happier.
Our main driver Jason "The Destroyer" Choachuy gave 110% to topple the competition for the top spot in the qualifiers for the Pro Division. Meanwhile Ric "Skeletonman" Wee qualified for the Top 16 in the Amateur Division.
With his sights on the top prize, The Destroyer went on the defeat all his opponents in the tandem battles up until the final duel with arch-rival multi-awarded Alex Perez. An early mistake in their first run however would cost Choachuy dearly akin to handing the win on a silver platter to Perez. It was the silver for Choachuy, but still a victory for the team nonetheless.
Thanks to Motor Pro Autoclinique and Autoplus for taking great care of the care and to Francisco Blanco for bringing out those horses.
For more photo and the full event report on AutoIndustriya.com, click here.